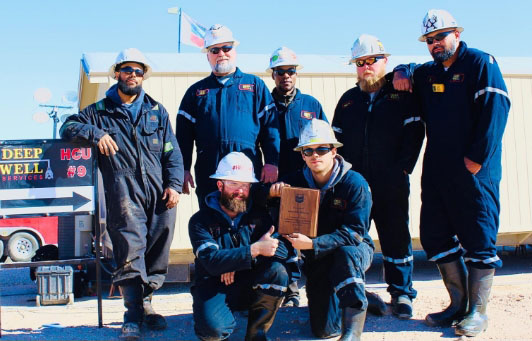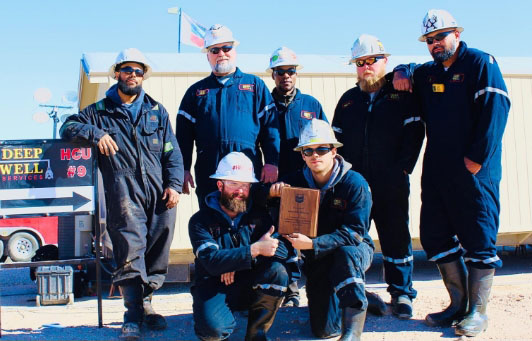 Deep Well Services continually accepts and reviews applications for all types of positions.
To be considered for employment, please complete an application by scrolling to "Browse Open Positions", which will take you to an external site. If an application matches an available position, the candidate is contacted by a member of our Talent Team. Applicants are encouraged to list all relevant employment history and current contact information. Thank you for your interest in Deep Well Services!
Deep Well Services is an Equal Opportunity Employer.
Deep Well Services is an Equal Opportunity Employer. Deep Well Services does not discriminate on the basis of race, religion, color, sex, gender identity, sexual orientation, age, non-disqualifying physical or mental disability, national origin, veteran status or any other status protected under federal, state, or local law. All employment is decided on the basis of qualifications, merit, and business need.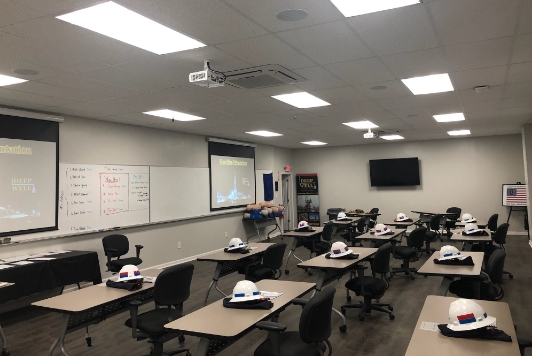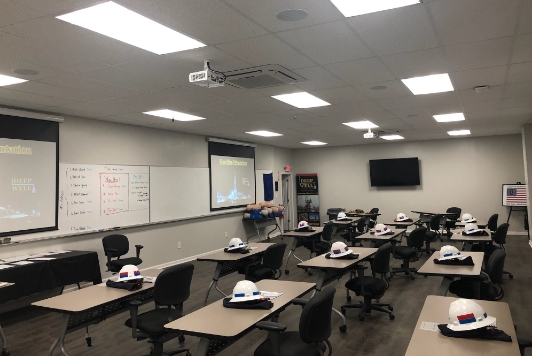 WELLNESS MISSION PROGRAM
We value every team member and their family's health and well-being, so we created our 'Wellness Mission' program.
Employee Assistance Program (EAP)

Company Paid Short-Term Disability

Health & Fitness Coaching Memberships

Supplemental Coverage
FREQUENTLY ASKED QUESTIONS
Life at Deep Well
HOW DO I KNOW THAT DEEP WELL SERVICES IS THE RIGHT CAREER PATH FOR ME?

A career in the oil and gas industry can be worthwhile, but it may not be for you. Please watch our "Day in the Life of a Roughneck" video to gain a better idea of what this new opportunity will consist of. Click here for the video.

WHAT IS THE FIELD WORK ENVIRONMENT LIKE?

All field positions will require you to work your shifts outdoors in a variety of, sometimes challenging, weather conditions. This can range from extreme heat to bitter cold, rain, or wind and snow conditions.

WHAT KIND OF SCHEDULE WILL I BE REQUIRED TO WORK?

Deep Well Services strives to give all crews a rotational schedule of 28 days on and 14 days off. These rotations may vary by position or job. All rotations require day and night shifts. You will be expected to work a flexible schedule of either days or nights during a rotation. Hours may be long and irregular, generally 12 to 14-hour shifts depending on crewing needs.

WILL I BE REQUIRED TO WORK ON HOLIDAYS AND WEEKENDS?

Yes. If your rotation covers a holiday, you are required to work on that holiday. Rotations include all days of the week within the rotation, including all weekend days.

DOES THE COMPANY OFFER ADVANCEMENT OPPORTUNITIES?

Yes. Deep Well Services offers an advancement program at every position level.

WILL I NEED TO PROVIDE MY OWN TRANSPORTATION TO AND FROM WORK?

Deep Well Services will provide flights to employees who are not within a reasonable driving distance. All flights are prepared through our Travel Department. Those employees within a reasonable driving distance will be reimbursed mileage for their trip to and from their home address.

WHERE WILL I STAY WHILE I AM AT WORK?

Deep Well Services will provide a hotel room for the employee only. All rooms are booked for two employees, one day shift and one night shift through the Travel Department.

HOW LONG SHOULD I EXPECT TO BE GONE DURING MY FIRST ROTATION?

After orientation, most rotations will last up to 30 days before days off.

CAN I STORE MY "HITCH TOTE" AT THE SHOP/OFFICE?

Deep Well Services will provide a space for employees who rely on flights to keep a "hitch tote" onsite for convenience.
Getting Hired & Basics
Candidates can browse open positions, submit their resume and complete an application by visiting our careers page here.

WILL I BE REQUIRED TO COMPLETE ANY PRE-EMPLOYMENT TESTING?

Yes. Applicants are subject to standard background checks, pre-employment physicals and drug screens.

WILL I NEED A DRIVER'S LICENSE TO BE SELECTED FOR EMPLOYMENT?

A driver's license is not a prerequisite for field position employment, unless it is for a supervisory role. A valid photo ID is all that is required. Supervisor, shop and office roles may require a valid driver's license. Driving privileges are granted in accordance with the company's standard policies.

WHAT TRAINING REQUIREMENTS MUST I HAVE TO BE HIRED?

Prior training is not mandatory for hiring consideration. Deep Well Services provides in house training programs, at orientation and throughout employment, to all employees.

DOES THE COMPANY OFFER HEALTH BENEFITS?

Deep Well Services offers a variety of benefits including medical, dental, vision, life insurances, voluntary options and wellness programs.

WHAT WILL ORIENTATION CONSIST OF?

During the first week of hire, all new employees will receive a thorough orientation. This is comprised of a full HR overview with new hire paperwork, safety training, and DWS specific skillset and certification training.

New hires will spend approximately 5 days in orientation. Additional on the job training will be provided to entry level employees, either in our local shops or by mentorship on well sites.

WHAT IF I NEED TO ADJUST MY WORK SCHEDULE DUE TO AN UNFORESEEN EMERGENCY OR A PREPLANNED EVENT?

In the event of an emergency, employees should inform their immediate supervisor of their need to take leave. Employees may be responsible for travel arrangements and fees when traveling outside of their required work schedule.
Any preplanned or scheduled events that may conflict with your work schedule should be communicated before hire with the HR representative. 

WHAT KIND OF WORK GEAR WILL I NEED TO BRING WITH ME?

Deep Well Services provides annual allowances to assist in the cost of lace up metatarsal boots and rain gear. All coveralls, hard hats, fleece liners, gloves, and additional PPE will be provided by the company.
Employees are responsible for laundering their own coveralls and personal items while on hitch.

DOES THE COMPANY OFFER A PER DIEM?

Deep Well Services offers a per diem under current standard policy. Per diem can be paid weekly or bi-weekly.

WHAT SHOULD I PLAN TO PACK FOR MY ORIENTATION/FIRST ROTATION?

After orientation, most rotations will last up to 28 to 30 days. New employees should pack supplies such as toiletries, socks, under clothes, comfortable under coverall clothes, and hotel lounge clothes. 
Store stops may be limited if you do not have your own vehicle while on hitch. Approved drivers will have access to company vehicles for local errands within company guidelines. Employees should pack enough supplies or plan to use an Uber/Lyft service at their own cost if a truck is not available for use. 

WHEN CAN I EXPECT MY FIRST PAYCHECK?

Deep Well Services pay periods are bi-weekly. Pay periods begin weekly on Sunday and end on Saturday. Paychecks are processed every other Friday. First paycheck dates are included on new hire paperwork during orientation.